Sold Out
All magical grapes of 2023 is sold out!
Thank you so much for your support 🙏🏽😊❤️
Season 2023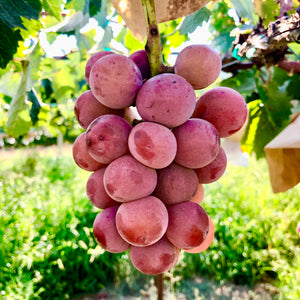 🇺🇸 Hello Grape Lovers, we greatly appreciate your patience.
The 2023 Magical Grape season is about to begin.
This year, we had an unprecedented rainy spring that lasted for a month, causing the flowering period to be significantly delayed and subsequently leading to a one-month delayed start for the harvest. The grapes are looking promising with a rich and sweet flavor.
The market will commence in September.
🇯🇵 みなさん、たいへんお待たせいたしました。
2023年のマジカルグレープのシーズンがスタートします。

今年は、今までに経験したことのない雨の多い春が1ヶ月も続き、開花時期が大きく遅れたせいで、収穫も1ヶ月ほど遅れてのスタートとなります。味はしっかりと乗って、甘いぶどうが収穫できそうです。

マーケットは9月からのスタートとなります。


Market Dates 2023
🇺🇸 Here is the market schedule for 2023:
Mar Vista Farmers Market (Sun)
9/3, 9/10, 9/17, 9/24, 10/1
Santa Monica Farmers Market (Wed)
9/6, 9/13, 9/20, 9/27
Santa Barbara Farmers Market (Sat)
9/9, 9/16, 9/23, 9/30
Shinano Smile grapes will be available for 3-4 weeks,
Black Beet grapes for the first slightly less than 2 weeks,
Shine Muscat grapes during the middle 2 weeks,
Queen Nina grapes are scheduled for the final week.
Please note that the harvest might be extended or end early based on conditions. For the latest updates, kindly check our Instagram.
🇯🇵 2023年のマーケットスケジュールは次の通りです。

マービスタ (日)

9/3, 9/10, 9/17, 9/24, 10/1

サンタモニカ (水)

9/6, 9/13, 9/20, 9/27

サンタバーバラ (土)

9/9, 9/16, 9/23, 9/30


シナノスマイルは、3−4週間
ブラックビートは、最初の2週間弱、
シャインマスカットは、中盤の2週間、
クイーンニーナは、最後の週に出て着る予定です。

収穫によって延長または早期終了する場合があります。
最新情報はInstagramをチェックしてください。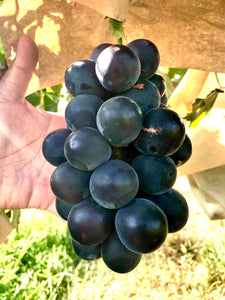 Letter from Morimoto Family
🇺🇸 Once again this year, due to personal circumstances, the Morimoto family,
who are the founders, are temporarily back in Japan and won't be able to
participate in the beloved markets or meet you all in person.
Thanks to the tremendous support of our cherished friends, we are able to bring you delicious grapes this year as well.
As preparations take time and to lessen the team's burden, our policy remains the same as last year,
where we generally won't be accepting pre-orders. Instead, we will load up the truck with as many grapes as possible and sales will be on a first-come, first-served basis.
We are looking forward to meeting all of you at the market with the Magical
Grapes!
🇯🇵 今年も創業者である森本一家は、家庭の事情で日本に一時帰国しており、大好きなマーケットに参加してお会いすることはできませんが、私達の大切な友人たちが、たくさん手伝ってくれたおかげで、おいしいぶどうを今年もお届けすることができます。
準備に時間がかかるため、チームの負担を減らすべく、今年はプリオーダーは取りません。の代わりトラックにできるだけたくさんのぶどうを載せていきます!
マジカルグレープは、みなさんとマーケットでお会いできるのを楽しみにしています!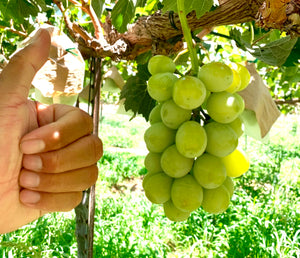 Collab with Fruits Queen
🇺🇸 This year, as a new initiative, we are collaborating with a startup
called "Fruit Queen."
They provide excellent fruit delivery and pickup
services in San Francisco and the Bay Area. While quantities are
limited, you can purchase Magical Grapes through their platform. Every
week, they will come to the vineyard, pick the grapes, pack them, and
deliver them to you.
For more information, please visit the Fruit Queen website and Instagram.
🇯🇵 今年は、初の試みとしてフルーツクイーンというスタートアップとコラボします。
彼らは、サンフランシスコやベイエリアで素晴らしいフルーツの配達やピックアップサービスを提供しています。
数量限定ではありますが、彼らを通じてマジカルグレープを買うことができます。毎週彼らが畑まで来て、ぶどうをピックアップし、パッキングしてお届けしてくれます。
Grown from Scratch!
At Magical Grapes, we grow our Japanese grapes with traditional, yet revolutionary methods. We do handiwork on every bunch like trimming flowers, thinning bunch, bagging and putting shades etc.  These are not easy jobs, but you can taste results in the quality!
Please check our instagram for daily work!
Logo & Art work by our friend artist Utomaru