Season 2022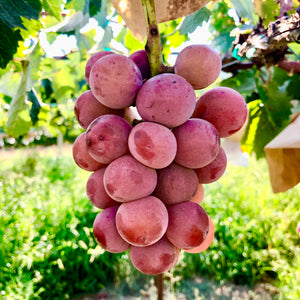 Magical Grapes 10th Anniversary
🇺🇸 Thank you for year long wait!
The 2022 Magical Grape is in season!😊

We are very happy to receive warm messages from many people saying that they have been waiting for a year.
This year marks the 10th anniversary of our vineyard🙏🏽, which we started from scratch with the desire to bring the deliciousness of Japanese grapes to the people of the United States.

In the beginning, few people even knew that we had original Japanese grapes, but with each season, we have gained more and more fans through the market, and thanks to social networking sites, many people have come to know about us. In the past few years, we have started to sell out, and we are truly grateful for that.
🇯🇵大変おまたせしました!
2022年のマジカルグレープがシーズンインです!😊

たくさんの方から一年間待ってましたと温かいメッセージを頂き、とてもうれしく思っております。
日本のぶどうのおいしさをアメリカの方々に届けたいという思いで、一から始めたぶどう畑は、今年で10周年🙏🏽を迎えます。

はじめは、日本オリジナルぶどうがあることすらほとんど知られていませんでしたが、シーズンを重ねるたびに、マーケットを通じてファンが増え、SNSのおかげくさんの方に知ってもらえるようになりました。ここ数年は完売するようになり、本当に感謝しています。

Farmers Market Dates
🇺🇸 The schedule for this year's market is

7/30 (Sat): Santa Barbara Farmers Market
7/31 (Sun): Mar Vista Farmers Market
8/3 (Wed): Santa Monica Farmers Market

We will have 4 weeks, ending on Sunday, August 21. (Updated; Extended to August 31)
(Due to staff shortages, we will not be able to participate in the Manhattan Beach market this year.)

🇯🇵 今年のマーケットスケジュールは

7月30日(土)Santa Barbara Farmers Market
7月31日(日)Mar Vista Farmers Market
8月3日(水)Santa Monica Farmers Market

からのスタートで、約4週間を予定しています。
最終マーケットは8月2日(日)タッフ不足のため、年はManhattan Beachのマーケットは参加できません。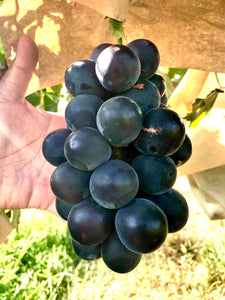 Letter from Morimoto Family
🇺🇸As we announced on our Instagram the other day, we are looking forward to seeing you at the market each season, but unfortunately, the usual Morimoto family will not be at the market this year.
Due to family reasons, they are temporarily back in Japan. Everyone in the family is fine!

This is the first time in the last 10 years that we will be away from our beloved vineyards for an extended period of time, and it has been very difficult for us to decide what to do.

We were very depressed, thinking that we would have to stop selling grapes this year, that we would disappoint everyone who has been waiting for us, and that in the worst case scenario, the vines would die.

However, my good friend Nori, who has been helping me since we started the Magical Grape farm, stepped up to the plate.

At first, he was only supposed to come and water the grapes, but this year he took the lead and worked hard to grow the grapes with the help of other friends.🙏🏽

We also FaceTimed with him every day, giving him as much technical information as possible and working together to produce better grapes than last year.
The weather was also on our side, and we were able to produce more delicious grapes than usual this year.🍇💪🏽
🇺🇸インスタグラムでも先日お知らせしましたが、毎シーズンみなさまにマーケットでお会いできるのを心待ちにしている私達ですが、残念ながら、今年はいつものモリモトファミリーはマーケットにいません。
家庭の事情で、日本に一時帰国しています。家族は皆元気です!

長期間、私達が心から愛するぶどう畑から離れるのは、この10年間で初めてのことでとても辛くどうしようかと思っていました。

今年はぶどうのセールスも中止せざるをえない、心待ちにしてくださっているみなさまをがっかりさせてしまう、最悪の場合、木が枯れてしまうかもしれないと、とても落ち込んでいました。

しかし、マジカルグレープの畑を作るときからずっと手伝いに来てくれていた、親友のノリさんが一肌脱いでくれました。

最初は、水やりだけ来てもらう予定だったのですが、どうせならと、今年は彼が中心となって、他の友人たちの手も借りながら一生懸命にぶどうを育ててくれました。🙏🏽

私たちも毎日のようにFaceTimeして、できるかぎり技術的なことを伝え、力を合わせて去年よりもいいぶどうをつくろうと努力してきました。天候も味方をしてくれて、今年は例年以上に、みなさんにおいしいぶどうができました。🍇💪🏽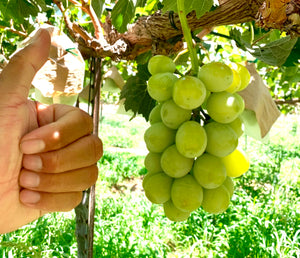 Difference from Last year
🇺🇸We had hoped to get back to selling our grapes somehow, but that is not going to be possible.
So Nori and his friend will hel to sell on our behalf.
However, since this is the first time for our friends to sell at a farmers' market, they are not used to it.

Therefore, the operation will be a little different from last year.

1) Please be generous.

What is usually done by a family of four will be done by two staff members.
We may have to wait in line longer than usual, but please be patient.
If our friends give up, there will be no way to sell.

We will try to bring as much as we can fit in the car this year, but please forgive us if we run out.

Don't forget your hats and water!🌞💧


2) No online reservations this year.

Basically, we will only be selling in-store.
Since it inevitably takes a lot of manpower and time to prepare the pre-orders, we will not be able to do so this year.
(Updated 8/9)
We have stopped taking bulk orders online.
Please purchase at the market.
If you are from out of state or want more than 10 bunches, please contact us by DM.
🇺🇸なんとか私たちも販売までに戻りたかったのですが、それもできそうにありません。
そこで、ノリさんたちが販売を代行してくれることなりました。
しかし、友人たちはファーマーズマーケットの販売が初めてなので、不慣れなところがあります。

そこで、去年と少し違うオペレーションとなります。

1)寛大にお願いします。

いつもは家族4人でやっていることを、スタッフ2人でやります。
例年以上の行列ができて、お待たせすることがかもしれませんが、どうぞ気長にお願いたします。
友人たちがギブアップしてしまうと、販売する方法がありません。

今年は車につめるだけ多く持っていくようにしますが、売り切れの時はご容赦下さい。

帽子とお水を忘れずに!🌞💧


2)今年は、オンライン予約はなしです。

基本的に、店頭販売のみとなります。
予約分を準備するのにどうしても人手と時間がかかるので、今年はできません。
(Updated 8/9) オンラインでのバルクオーダーは、中止いたしました。
マーケットでのご購入をお願いいたします。
州外からのお客様、10房以上のご希望のお客様など、InstagramDMでご相談下さい。


Price of goods and Grapes
🇺🇸As you all know, the inflation of prices this year has been tremendous, and it has been difficult for us farmers.

Our grapes are grown in the Japanese way, with each bunch being carefully handled to ensure the best taste.
We want to deliver our products as reasonably priced as possible, but we just can't afford to produce them cheaply.

In order to reward our friends who work so hard to help us and to continue to produce delicious grapes, we are going to raise the price of our grapes at the market a little bit.
(Even so, the price is almost the same as the price sold in Japan.)

We will do our best to continue to deliver delicious grapes, so please understand. Magical grapes are made by everyone😊🙏🏽🤙🏾

Please enjoy our Magical Grapes!🍇

🇺🇸みなさんも御存知の通り、今年の物価のインフレはもの凄く、それは私達農家にとっても厳しいものがあります。

私達のぶどうは、おいしさを追求するため、一房一房手をかけて育てる、日本式の栽培方法をとっております。
できるだけリーズナブルにお届けしたいと思っているのですが、どうしても安く作ることはできません。

一生懸命手伝ってくれる友人たちに報い、おいしいぶどうを作り続けるため、大変心苦しいのですがマーケットでのぶどうの値段を少し上げさせていただきます。
(それでも、日本で売られている値段とほぼ同じなんです)

継続しておいしいぶどうを届け続けられるよう努力してまいりますので、どうぞご理解お願いします。みんなでつくるマジカルグレープです。😊🙏🏽🤙🏾


どうぞマジカルグレープ🍇を楽しんで下さい!
Grown from Scratch!
At Magical Grapes, we grow our Japanese grapes with traditional, yet revolutionary methods. We do handiwork on every bunch like trimming flowers, thinning bunch, bagging and putting shades etc.  These are not easy jobs, but you can taste results in the quality!
Please check our instagram for daily work!
Logo & Art work by our friend artist Utomaru